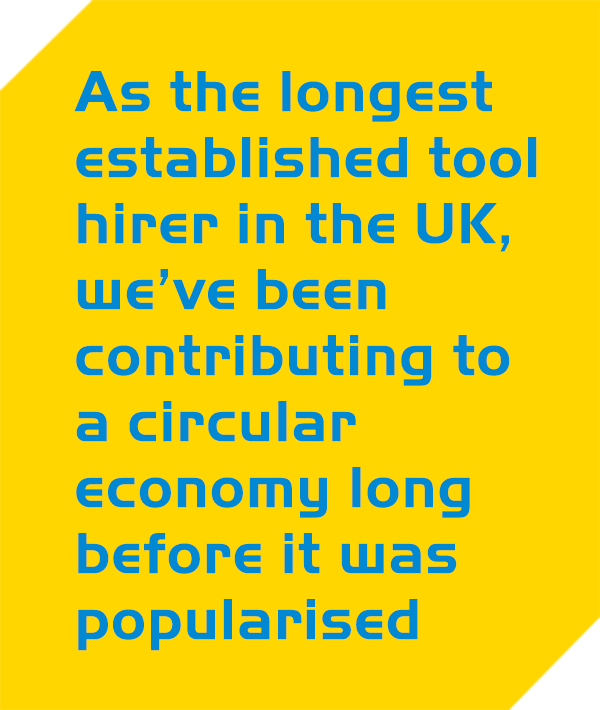 Renting to Net-Zero
Our business model is inherently sustainable because there is a significant difference in terms of environmental impact between our customers buying equipment versus hiring equipment from HSS. Having said that we understand that there is much work to be done to hit our ambitious targets.
In order to reach our goals, we understand that as a business we need to:
Source more low-carbon products through both our CAPEX plans and via our vast rehire network.
Extend our products life span as much as practicably possible encourage the circular economy.
Manage every product's end-of-life responsibly, by sending equipment to auction wherever possible maximising re-use.
Supply low-carbon alternative fuel to our customers and for our equipment.
Reduce associated carbon for the transportation of goods, both upstream and downstream.
Continue to promote the responsible consumption of raw materials via process optimisation and closer collaboration with our supply chain.
We are in a unique position to leverage our technology platform to expediate our journey to Net Zero. As a digital leader in the hire market, we believe technology has a central role to play in helping us and our customers reach net-zero. The majority of our Scope 3 emissions derives from our customers using the equipment we hire to them. Recognising this, we've placed a tremendous amount of time and effort into building a revolutionary technological tool: Bitesize Customer Carbon Reporting.
This tool enables our customers to track the emissions they produce via HSS from use of equipment and associated transportation, allowing them quick and easy analysis to reduce their own emissions.